Harvest at the Rennersistas - Interview with Anne from 8gb.
The 8gb. team took turns spending a week with some of our winemakers to help with the grape harvest. In this interview Anne gives us some information about the Rennersistas harvest in September 2021.
One week at the Rennersistas
Have you always wanted to know what the grape harvest looks like at the Rennersistas looks like? Anne tried it out for you. She spent a week in Burgenland with her husband to help the Rennersistas (including her brother, of course 😉) harvest the grapes that make the wonderful wines we love to drink.
Ready? Give yourself a Waiting for Tom Weiss or best of all the Rennersistas BLFRNKSCH Blaufränkisch and let us feel the vibes!
The Basics for Harvest Week
8gb: Which Weingut did you help harvest?
Anne: "Den Rennersistas: i.e., Steffi, Georg and Susanne Renner - in Gols, Austria (in the Burgenland wine region)."
8gb: How long did the vintage last for you at Rennersistas ?
Anne: "I was there for a whole week (from September 12 to 19)."
8gb: How big was your harvest team?
Anne: "Our team consisted of about 15 people. This included a permanent crew that traveled from Hungary every day, as well as Steffi and Georg (the winemakers), their German intern Lucas, and their wonderful mom Birgit and dad Helmut, who occasionally helped us in the fields. We were also very lucky to have Anna, our former intern and soon to be permanent employee, who used to be an intern at Rennersistas , join us this week!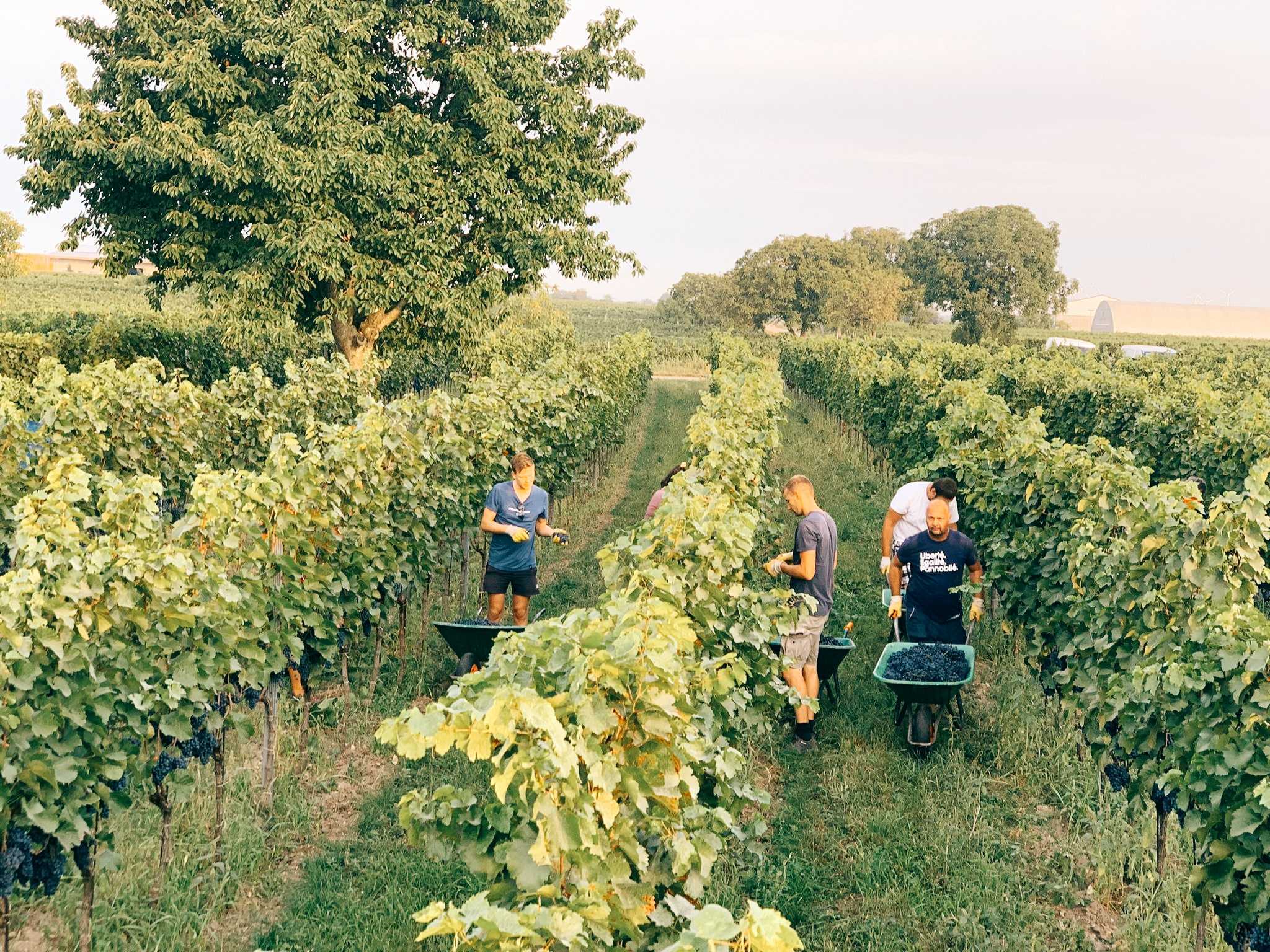 A day in the vineyards rennersistas

8gb: What did a typical day look like?
Anne: "The grape harvest at Rennersistas starts pretty early. A typical day started at 5:30! We grabbed a quick snack and biked to Weingut. Upon arrival, we drank one of Lucas' famous espressos and at 7am we all gathered in the designated field to begin harvesting!
The duration of the harvest always depended on the weather. The week I was there it was quite warm, so we only harvested until 12 or 13 o'clock (because the sun was sometimes too hot). During the grape harvest we were always with someone and we were given a wheelbarrow (or "talicska" - Hungarian word for wheelbarrow, which was very important to know), a pair of gloves and secateurs.
Each grape had to be thoroughly inspected before cutting. Depending on the quality of the grapes, we sometimes harvested more than one grape variety in a day. (The Pinot Noir was the most difficult - now I understand why they call it the heartbreak grape)."
8gb: Oh yes, we think so. And further?
Anne: "After the grape harvest, we returned to Weingut to eat the lunch that Mama Birgit prepared for us every day. And what great and delicious dishes she prepared! She usually cooked a different soup for each day of the week (the Wednesday soup was a big hit, hehe)."
Work in the basement
Anne: "When lunch was over (and maybe after another coffee), we helped Steffi and Georg in the cellar. Here we had the opportunity to participate in many different steps of winemaking. There was tamping, pressing, checking the density of the wine, and we all got to bottle Pet Nats too! And of course - the tasting!" 😉

8gb: And the evenings? What did they look like?
Anne: "We spent the evenings visiting some of the neighboring wineries (8gb. partner wineries) like. Pittnauer, Judith Beck and Claus Preisinger where we always got great tours and insights into their wines and their Weingut ... and of course... more tastings. 😆
Our evenings usually ended at the winery, where Steffi tested our mad skills with a blind tasting (usually with other great Austrian natural wine producers)."

8gb: And what were the best moments for you, Anne?
This is a hard question to answer because I have had many favorite moments. One great moment was when my husband and I decided to cook for Steffi in the lovely apartment where we were staying, and where we had another blind tasting, of course. Another favorite moment, and probably the most romantic, was seeing the sunrise in the vineyards during the grape harvest.
Champagne and grape stomping 🍾🍇
Something even more special was when Steffi allowed us to participate in one of the traditions of Rennersistas (which is also based on the tradition of making port wine), where we stomped on the grapes for 30 minutes while drinking champagne (while listening to good music, too).
8gb: And what challenges have you encountered like that?

Anne: "I think the only small setback or challenge was the small language barrier, because I am a native French and English speaker (with a good knowledge of German). Austrian was a whole other level - so much so that my German husband couldn't always help me either. But Georg and Steffi were always so incredibly patient with us and brought out their High German. But at the end of the day, the wine always helped us understand each other better."😉
Wine for the win 🍷
8gb: Is there another anecdote?
Anne: "On my last day, we were invited to watch and cheer on George's soccer team. It was so incredibly fun to be there with the Renner family, cheering and yelling and of course drinking wine... We drank their Waiting for Tom Rot, to be exact. Oh, and they won! I also tried Leberkäse there for the first time in my life to complete my whole Austria experience."